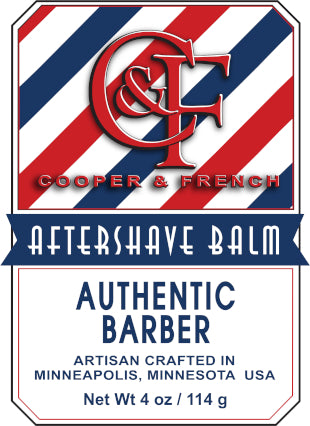 Authentic Barber Aftershave Balm
Evoke the timeless charm of classic grooming rituals with the Authentic Barber Aftershave Balm. Each application transports you back to an era when barbershops stood as sanctuaries of elegance, their enchanting fragrances and lively chatter filling the streets.

Steeped in the harmonious blend of powdery Bay Rum, forested Sandalwood, and the profound depth of earthy Patchouli, our aftershave balm isn't just about post-shave care; it's a journey through time, reviving the barbershop's heart and soul.

Handcrafted with meticulous attention to detail, our balm captures the essence of refined grooming. Beyond the nostalgic fragrance, it offers a modern touch - a lightweight formula that's rapidly absorbed, rejuvenating the skin without leaving behind any oily trace. It's a modern nod to age-old wisdom, providing the perfect soothing finish to a classic shave, sans the sting of alcohol-based products.

Indulge in a grooming experience that transcends time. Let Authentic Barber Aftershave Balm be your bridge to a world of tradition, luxury, and impeccable style.
Ingredients: Distilled Water, Aloe Vera Leaf Juice, Sunflower Seed Oil, Jojoba Oil, Meadowfoam Seed Oil, Stearic Acid, Soy Oil, Cetyl Alcohol, Emulsifying Wax, Vegetable Glycerin, Palmitic Acid, Vitamin E, Potassium Sorbate, Vitamin C, Citric Acid, Fragrance, (Propylene Glycol, Diazolidinyl Urea, and Iodopropynyl Butylcarbamate used as a preservative).
---