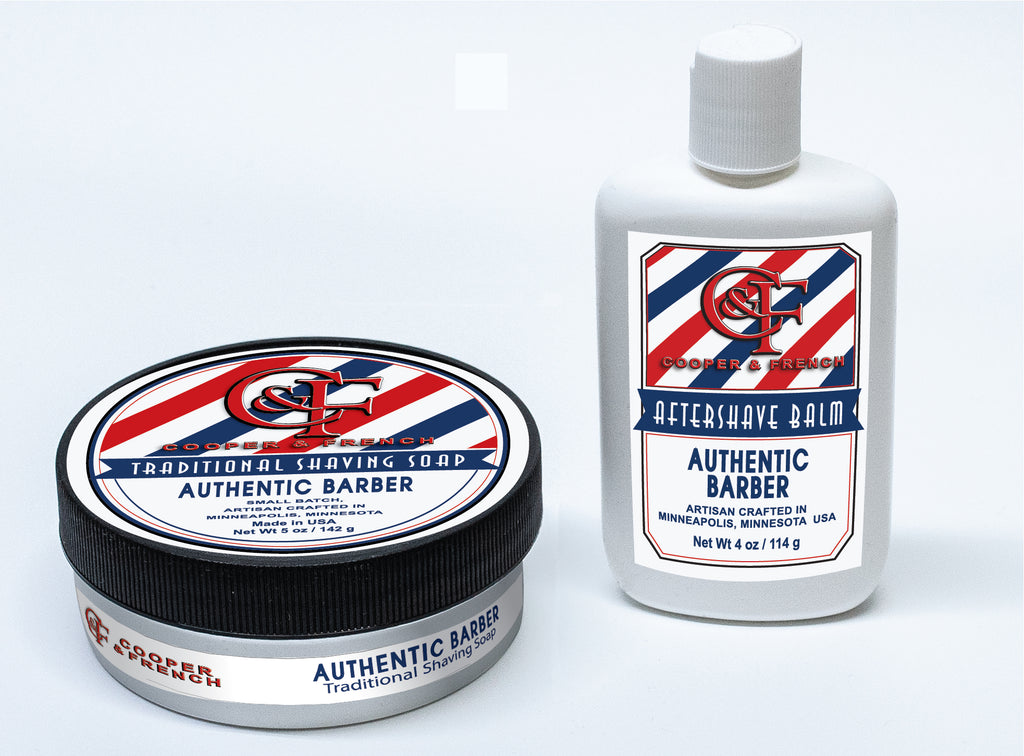 Authentic Barber Bundle
Authentic Barber Luxury Set: Shaving Soap & Aftershave Balm by Cooper & French
For those who yearn for the days when the gentle aroma of talcum powder signaled the proximity of the trusted barbershop when simplicity intertwined with unmatched quality—Cooper & French brings to you the Authentic Barber Shaving Soap and Aftershave Balm Bundle.

Within this bundle:

Authentic Barber Shaving Soap - 5 oz.
Authentic Barber Aftershave Balm - 4 oz.
Exclusive Offer: Just $28.99 (a $32.98 value when items are purchased separately)

But the Authentic Barber range is more than a mere nod to times gone by. Formulated from premium ingredients, this iconic duo promises:
experience. Here's how:
Main Street Memories:  

As any seasoned barber would attest, true grooming elegance lies in hydration. From the first touch of our opulent lather to the final soothing note of our balm, your skin is enveloped in lasting moisture.

Get Scent-imental:  Immerse in an olfactory journey through time with the intricate blend of sandalwood, patchouli, and musk. This evocative fragrance lingers, stirring cherished memories throughout your day.
Grass Roots:  Crafted with passion in Minnesota, using only the finest natural ingredients. With our meticulous small-batch approach, we guarantee unmatched quality and consistency.
Embrace the legacy of the past while setting forth into a future of refined grooming. Choose the Authentic Barber Shaving Soap and Aftershave Balm Set by Cooper & French. Elevate your grooming ritual today.

---